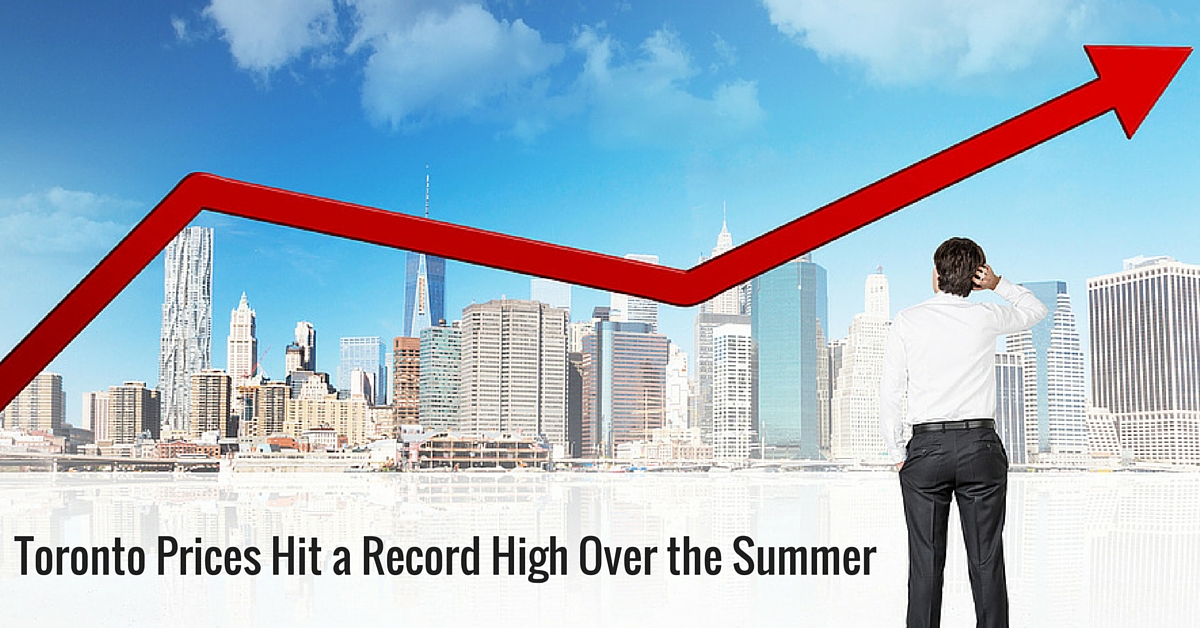 07 Oct

Toronto Prices Hit a Record High Over the Summer
July saw a record number of Toronto-area homes sold, with an average selling price of $609,236 for the month.
According to Mark McClean, Real Estate Board President: "9,880 homes sold in the Greater Toronto area in July 2015, representing an 8 per cent increase from the sales in July 2014."
According to a recently released report, the sales broke the sales record for July, a month that's typically slower for the real estate industry. "It is important to point out that home ownership demand has been driven not only by low borrowing costs, but also by the fact that the GTA economy has been performing quite well," McLean said in the report.
Sky High Real Estate Prices in Toronto
The TREB report found that the average sale price in the GTA was $609,236 for the month of July, up 10.6 per cent from July 2014, when the average was $550,625. Even though the average sale price reached a record high in July, prices are actually lower than the average price in June.
According to these findings, the city of Toronto is set to break the record for number of homes sold in a year, previously set in 2007. The previous record was 93,193 homes sold, with an average selling price of $327,236. With this report, TREB has recorded 64,514 sales in 2015. Records have consistently been broken across the year, with April, May, June and July all exceeding expectations. Additionally, monthly sales have been higher year-over-year every month of 2015, when compared to last year's sales.
Expensive Condos
The Canada Mortgage and Housing Corporation have stated that a surge in condo construction pushed Canada's housing starts figure to its highest level of the year in August, at 196,565.
We've all heard the stories about crazy house sales in Toronto, like the eight feet wide three storey property that features a garden, balcony and a sauna that's currently on the market for $750,000. Or the dilapidated house on the Beaches that sold for more than a million, despite not being hooked up to hydro, with holes in the roof and animals inhabiting a few floors and just generally being deemed "uninhabitable."
The fact is, the Toronto real estate market is heating up, with no sign of cooldown coming any time soon. According to TREB, the rate of sales growth is outpacing the rate of listings growth by a wide margin. In a release, Jason Mercer, TREB's director of market analysis, stated: "As long as this situation persists, expect home prices to trend strongly upward."
Tired of Living in Toronto?
Toronto has definitely lost its groove. Its no longer the jewel it used to be. As such, now is the perfect time to leave Toronto. One of the best places to live outside of Toronto is Alliston. If you're ready to move, we at Previn Court build a home for you. With over 35 years of experience, we have built homes for over a thousand families, including detached, townhome, and unique attached single units, and we can help you find the perfect home for you.
Take a tour of our incredible models, or contact us today for more to let us know your needs in terms of bathrooms, bedrooms and budget.