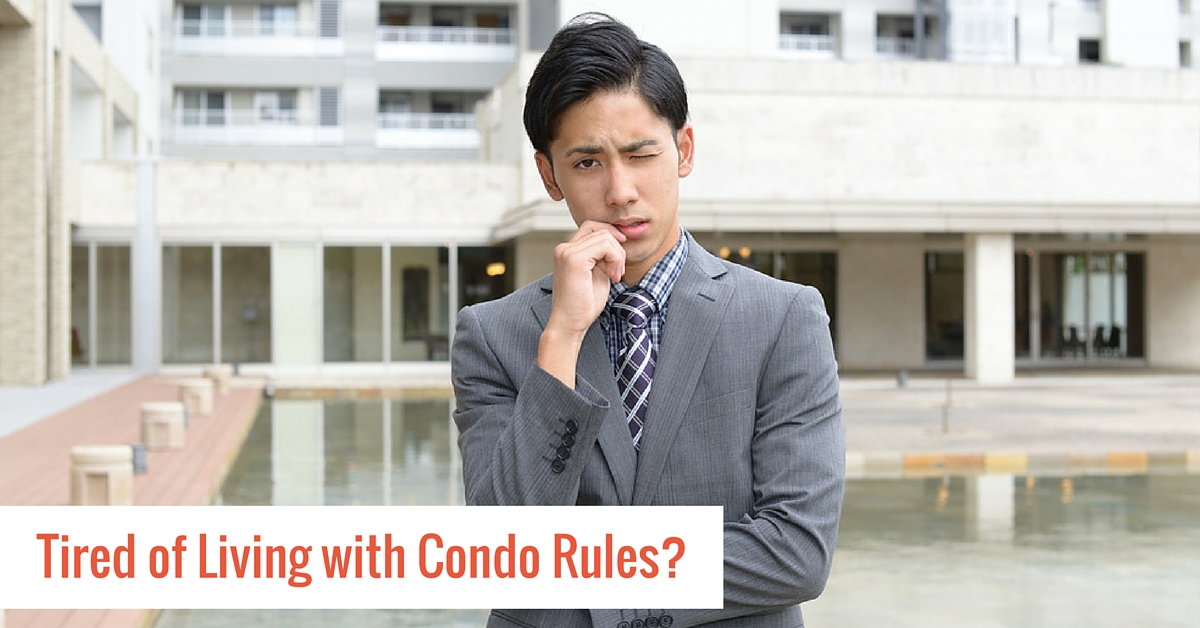 04 Nov

Tired of Living with Condo Rules?

For years, condo life was seen as the pinnacle of big city living for the young, hip set. Steps from amenities, right by downtown, easy to reach, and every night and day's a party.

Even today, the city is plastered with posters selling promises of condo life, but more and more people are opting to skip the condo experience, with many of today's condo owners and renters moving on to other housing choices, like renting in the suburbs where the prices are lower.
Has YOUR Condo Bubble Burst?
Originally, condos encouraged low-income Canadians to buy homes rather than renting, but in the past few years, people are more interested in living downtown for work, better opportunities and being able to say they live downtown. The increasing number of seniors and lower rates of marriages and births are fuelling demand for smaller and more affordable homes. However, as time has passed, the luster has begun to fade for many.
"I would say buyers in their 20s probably won't live in that condo for five years," David Fleming, a Realtor with Bosley Real Estate and writer of the Toronto Realty Blog, said.
"They're going to either outgrow it, or find a mate and want a bigger, better or different place."
You're No Longer Single
Another issue, and one often overlooked, is the demographics that condos are attracting. Developers are focused on condos with one-bedroom units, which attract two specific demographics: first-time buyers moving out of their parents' place and the older generation who are downsizing from larger homes. Statistics Canada reported in 2011, that the majority of condo owners are below 35 and older than 65.
The two generations often end up sharing a floor, which understandably leads to clashes between the two generations. As a result of these issues, and many more besides, more and more people are simply renting or otherwise avoiding the world of condos, and taking greater care of themselves and their bank account once the glamor of downtown living has worn off.
Tired of Living in Toronto?
Toronto has definitely lost its groove. Its no longer the jewel it used to be. As such, now is the perfect time to leave Toronto. One of the best places to live outside of Toronto is Alliston.
If you're ready to move, we at Previn Court  build a home for you. With over 35 years of experience, we have built homes for over a thousand families, including detached, townhome, and unique attached single units, and we can help you find the perfect home for you.
Take a tour of our incredible models, or contact us today for more to let us know your needs in terms of bathrooms, bedrooms and budget.