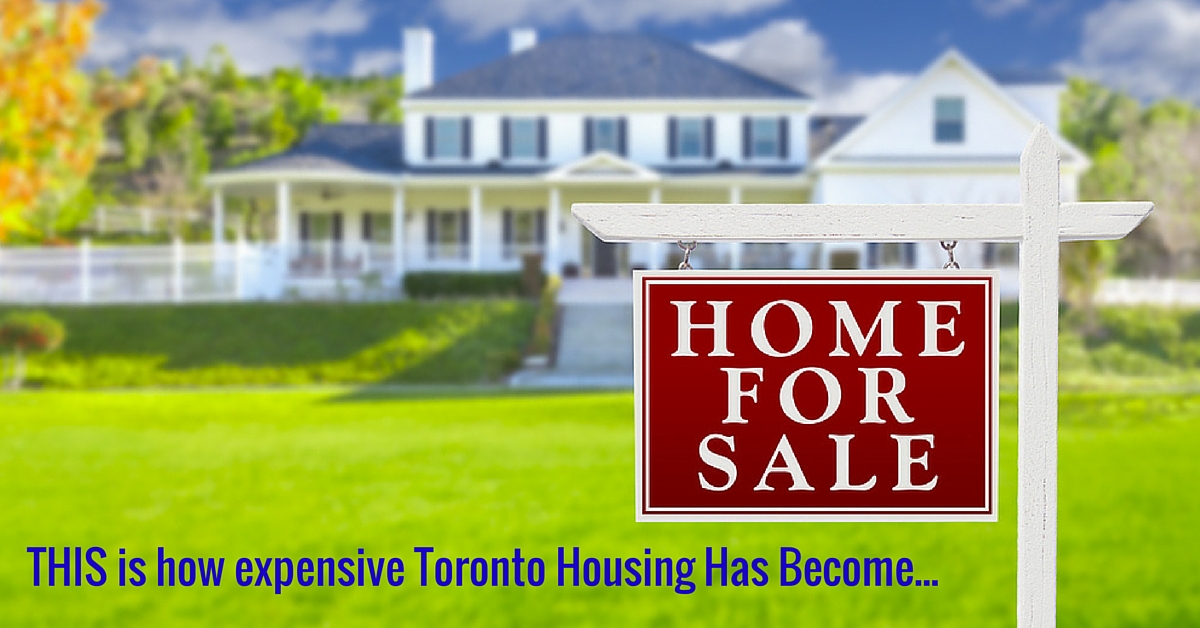 28 Oct

THIS is how expensive Toronto Housing Has Become
According to 84% of people surveyed by Angus Reid, "it is unrealistic for young people to expect to own a house and a yard in the GTA."
45% of those surveyed admitted to being forced to shop outside the GTA due to the high cost of owning property and living in the city.
In hot markets like Toronto and Vancouver, high flying prices and low amounts of properties are forcing prospective homeowners to take desperate measures, including turning to craigslist, leafleting, posting flyers and even knocking on doors in search of properties for sale.
Desperate Times
Kate Whyte, of Vancouver, described her time knocking on doors: "I had a lot of elderly people tell me I was crazy… I had a lot of people say they totally understood. I had a lot of people say they had done the same thing."
Real estate agents are similarly being forced to take an active role in searching for clients. Ryan Thompson, an agent with Royal LePage Burloak Real Estate in Toronto, blindly sends letters asking if homeowners are interested in selling and has even begun cold-calling homeowners to see if they're interested in selling. Before, they would only have done this for difficult clients, but now it's a weekly event.
Expensive and Unliveable
Recently, a home with holes in the roof, where agents advised potential buyers to bring a flashlight, sold for more than one million dollars. It is believed to have been bought primarily for the location: "steps from the lake in one direction and seconds to the shops and restaurants in the other." That's a prime location, even if the house in question is "uninhabitable." Houses can be torn down and rebuilt.
According to TREB, prices will continue to go up until the number of listings begin to match or exceed the number of sales. Until this happens, expect to hear more stories like these.
It's impossible to predict when this bubble will (preferably) deflate or even burst, but the Bank of Canada already considers investing in the housing market to be a financial risk. While the Bank of Canada wants to boost the country's sluggish growth, cheaper money could lead to an even more frenzied housing market in two of the country's biggest cities.
Realosophy Real Estate president John Pasalis believes that the market may calm down a bit when construction slows, but added "I think (prices are) going to continue where they have been going."
Ready to Move out of Toronto?
As Toronto continues to grow, the cost of buying a home also increases. Its becoming increasingly difficult to buy a home in Toronto because of the high costs involved. As such, many people are now considering moving outside of Toronto in search of affordable homes. That is where we at At Previn Court Homes can help.
Since our inception over 40 years ago, we have constructed in excess of 1500 homes in Canada, and in the process made the dreams of 1500 families come true. Take a tour of our incredible models, or contact us today for more to let us know your needs in terms of bathrooms, bedrooms and budget.