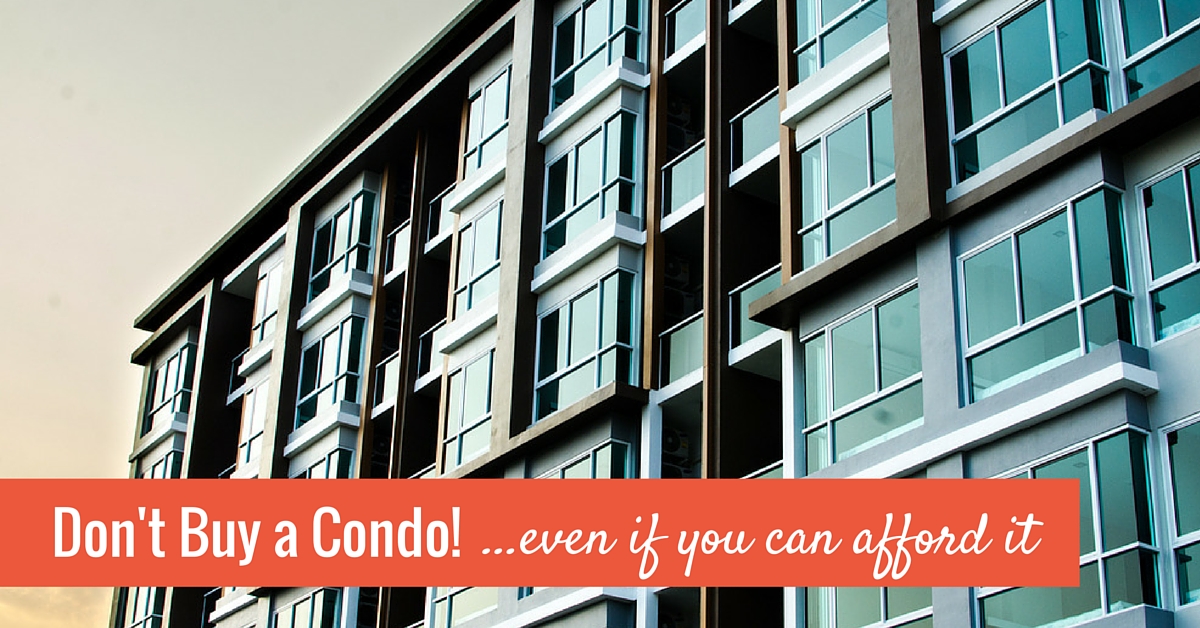 25 Nov

Don't Buy a Condo, Even If You Can Afford It
In the past, home ownership was seen as proof you had made it as an adult. The cost of upkeep would pay off, literally, when you sold up and moved up, and in the legitimacy it lent to being a mature and stable member of their community.
Renters were seen as single, young and irresponsible, and certainly couldn't be counted on to perform as a decent member of society.
However, in recent years, that perspective has disappeared. Some blame the wildly spiralling housing market, where houses can regularly fetch in excess of one million dollars. Others say it's due to the sheer amount of rental properties, or the freedom of leaving problems to your landlord, rather than handling it out of your own pocket.
House Poor Torontonians
Many young adults think that the market is going to continue going up, and they are seeing the value in renting for a few years, rather than buying.
Let's do the math. When you add condo fees to your mortgage payment (approximately $400 a month) and property taxes ($180 a month), along with any home improvements that you may wish or need to make and your costs very quickly start heading skyward. In contrast, if you're renting, you keep your costs substantially lower, and if something does happen to go wrong, it's the responsibility of the landlord to repair or replace anything that needs renewing. All you're spending is to cover your rent and whatever bills you have, rather than homeowners taxes or any upkeep.
This leaves you with a surplus of money you can repurpose and invest, and plan your monthly or annual budget much more easily. Amenities that come as part of renting in an apartment building, such as a pool, gym, or garden, would add to the cost of buying and upkeep, but when you rent, those come as a bonus and maintenance is someone else's problem.
Toronto's Condo Bubble
David Fleming, a Realtor with Bosley Real Estate and writer of the Toronto Realty Blog, believes that most of the condos that he has sold recently will be up for sale again within the next five years.
The young owners grow up, move on, find a partner, whatever it may be, and they will soon need a bigger space. His advice is to rent a downtown condo, don't buy one. You still get to live the urban lifestyle and reduce your commuting times, whether it be to work or school, but renting will allow you to maintain better control over your budget.
Mr. Fleming said Toronto's overall rental market is tight, but one bedroom condos available to rent are plentiful, and rarely break the bank.
Tired of Living in Toronto?
Toronto has definitely lost its groove. Its no longer the jewel it used to be. As such, now is the perfect time to leave Toronto. One of the best places to live outside of Toronto is Alliston.  If you're ready to move, we at Previn Court can build a home for you. With over 35 years of experience, we have built homes for over a thousand families, including detached, townhome, and unique attached single units, and we can help you find the perfect home for you.
Take a tour of our incredible models, or contact us today for more to let us know your needs in terms of bathrooms, bedrooms and budget.