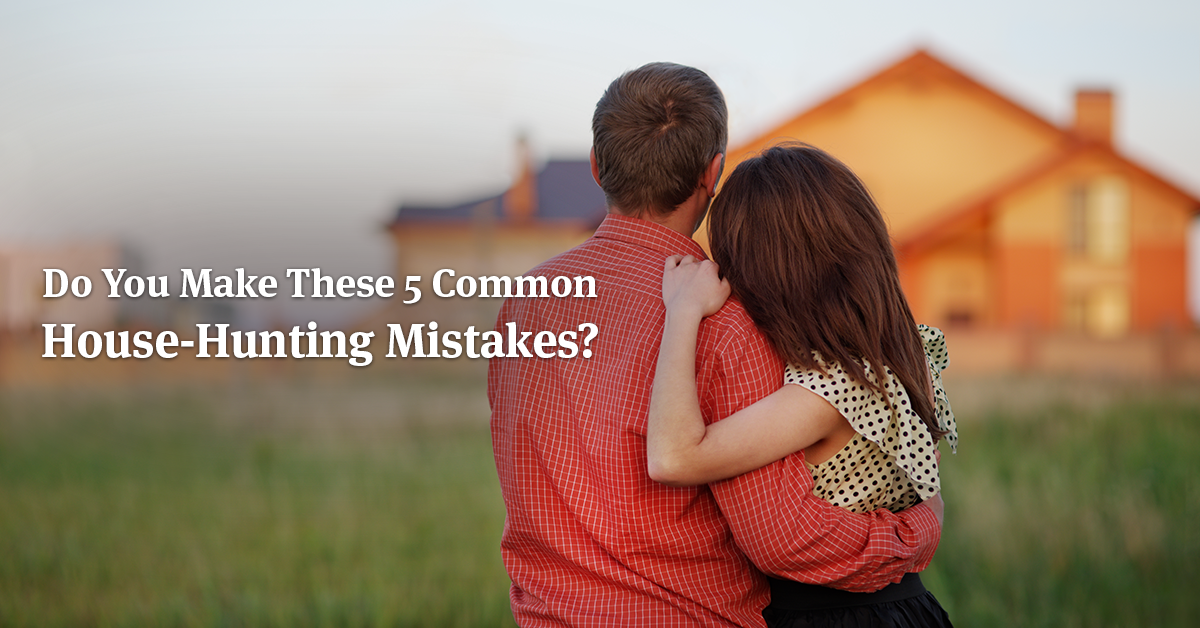 22 Apr

Do You Make These 5 Common House-Hunting Mistakes?
House hunting is a daunting task, and most of the homes you'll come across won't be what you're looking for. Besides knowing what you don't want in a house, there are a number of mistakes you could be making during your search for a new home, which could either make your process longer, or result in you purchasing a home with which you're not happy.
If you want to get through the house hunting experience smoothly, and end up with a home instead of just a new house, try and avoid the mistakes we identify below.
1.  Doing It on Your Own
Realtors exist for a reason.  It isn't that you're not qualified (you're probably not), it's that you don't have back-up. Besides the fact that it isn't safe to wander into a random house for sale, the seller can pressure you into an unfair deal.  Your realtor can look into the value and check the place out for you and the representation won't allow the seller to take advantage of you.
2.  Rushing Through the Viewing
When you're visiting a prospective home, don't let anything hold you back from scrutinizing every nook and cranny.  Your realtor won't care, it's their job to find you a right fit.
It's too easy to miss glaring damage, deceptive storage space or entire rooms.  Don't stop on account of the sellers – they were warned you were coming.
3.  Expensive Tastes
If you've fallen head over heels for the place you're checking out and the price is slightly outside of your budget, don't fool yourself into thinking it's only a bit more than you were prepared to pay.
The reason why you should be disciplined and stick to your budget is a little thing called interest.  Whatever the amount outside of your price range, you will have to pay interest on it and it'll be stretched over time.  This can really hurt your wallet and you're better off stashing the money in an emergency fund.
4.  Getting a Fixer Upper
Don't overestimate your construction skills because you watch a lot of home reno TV shows.  Unless you're a contractor, odds are you're going to severely underestimate how expensive it will be to flip your shabby looking home.
5.  The Terrible Trio:  LAM
Lead, asbestos and mold.  They're all deadly and we're afraid of them for good reason.  The thing is, unless your house was built yesterday, it's going to have some of these elements somewhere, and being too skittish around any of these could mean missing out on the right home.
Sellers and realtors are by law required to disclose the presence of any of these.  Lead paint is only dangerous if peeling or at a junction and asbestos can be easily removed.  The cost of removal can usually be deducted, too.
Looking for a Brand New Home with No Surprises?
Finding the right home for your wants and needs can be very challenging, especially when there are lots of unknowns such as whether an appliance will break down or if the electrical will need to be replaced.  At Previn Court Homes, we recognize the peace of mind that a newly built home provides, and our friendly staff takes the time to introduce you to all of the features of our quality residences.
With over a thousand homes built over the last few decades, and plans to build thousands more, we know how to create houses that families call home, and we invite you to explore our models.  Contact us to learn more about our homes, or register for priority updates and special offers, and let us help you find your dream home.